Grapes From California
The same California grapes that are used by the finest wineries in the U.S. are now available to home winemakers and commercial wineries here on the East Coast. Gino Pinto Inc. has established long-term relationships with California growers from wine regions all over the state who provide grapes of exceptional quality. These grapes are handled and packed with care from the vineyard and shipped refrigerated direct to our door ensuring that the grapes are delivered in the best condition.  Described below are some of the California wine regions where we source our grapes.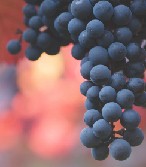 Central Valley
The Central California valley wine region lies east of San Francisco Bay in the central California valley and runs south through the Sacramento and San Joaquin valleys to Bakersfield.
Viticulture in California's vast interior valley, nestled between the state's coastal mountain range and the Sierra Nevada, is actually two valleys: the Sacramento Valley in the north and the San Joaquin Valley in the south, which includes the Delta area located in the middle where the two valleys meet.
Although the Sacramento and San Joaquin Valleys are not designated AVAs, the region produces 71 percent of the state's wine grapes and is home to eight AVAs — Clarksburg, Diablo Grande, Dunnigan Hills, Lodi, Madera, Merritt Island, River Junction and Salado Creek.
The Sacramento Valley runs for approximately 120 miles from Red Bluff in the northern end of the valley to the city of Sacramento. Bordered by the Sierra Nevada to the east and the Coast Ranges to the west, this level, sun-drenched, agriculturally rich area is unaffected by ocean influences.
The San Joaquin Valley is filled with fertile and rich soils, which are among the richest and deepest in the world. The mountain ranges in this region drain into the San Joaquin River, and the river deposits the deep loam (equal mixture of sand and silt) soils, which are characteristic of the region. The combination of soil and regional weather creates growing conditions that are often ideal and create vines that are naturally vigorous.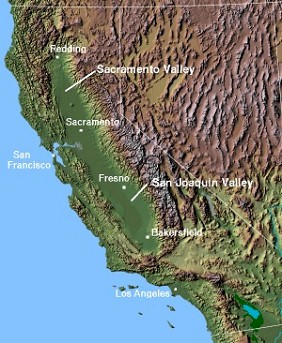 Lodi-American Viticultural Area (AVA)
The Lodi Appellation is a federally designated American Viticultural Area recognized for the distinctive quality of its wines. Located directly east of San Francisco at the edge of the Sacramento River Delta, the Lodi appellation is noted for its classic Mediterranean climate and its distinctive sandy soils that provide the perfect environment for the production of world-class wines. For more information on the Lodi wine region you can visit the Lodi-Woodbridge Winegrape Commission website. Click here…
To look at a map of the Lodi AVA click on the following: MAP OF LODI AVA
Suisun Valley-American Viticultural Area (AVA)
The Suisun Valley lies within the southern end of two ranges of the Coast Range, the Vaca Mountains to the east and the Mt. George Range to the west. Suisun Valley terminates in the south at the marshlands of Suisun Bay. To the north Suisun Valley rolls up into Wooden Valley at the Napa County line. For more information on the Suisun Valley AVA you can visit the Suisun Valley Grape Growers Association web site. Click here…
To look at a map of the Suisun Valley AVA click on the following: MAP OF SUISUN VALLEY AVA
Sierra Foothills-Amador County
The Sierra Foothill wine region of the central California valley is generally east of San Francisco and includes the El Dorado and Amador County wine growing regions. More than 100 wineries are located in this area with vineyards generally located between 1,500 to 3,000 feet where elevation creates a four-season climate. The shallow, mountainside soils create moderate stress on the vines, producing low to moderate yields and high quality. The region has rolling, sun-drenched hillsides, warm climate, and volcanic, decomposed granite soils, which are ideal conditions for producing quality wine grapes. For more information on the on this region Click here…
Paso Robles
The Paso Robles AVA has over 20,000 acres under vine and is emerging as a leader in Californian viticulture with over 100 wineries.  Paso Robles has a greater day-to-night temperature swing than any other AVA in California. This optimal climate along with exceptional soil produces a range of exceptional varietals including Cabernet Sauvignon, Zinfandel, Merlot, Viognier, Primitivo, and Petite Verdot.  For more information on the Paso Robles AVA you can visit the Paso Robles Wine Country Alliance website. Click here…