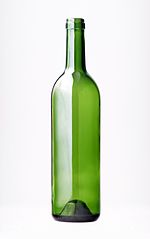 Some wine bottles have indentations on the bottom (dimples). These dimples are called, "Punts."
Do the punts in wine bottles have a purpose? Is the wine bottle better because it has a punt? Is the wine inside a wine bottle with a punt of better quality?  The answers to these three questions are, "No, No, and No."
Many moons ago, when wine bottles were hand blown, the punts did have a purpose—to eliminate the piece of glass on the bottom of the bottle which caused the bottle to be uneven on the bottom and be unstable.
Now, with modern manufacturing methods and tools, wine bottles don't require a punt. Flat-bottom wine bottles are just as strong and cost just about the same as wine bottles with punts. So why have them?
Some say that punts make the wine bottle stronger. Others say that punts help trap sediment. Waiters often pour the wine by sticking their thumb in the wine bottle punt.
Frankly, punts are probably an aesthetic remnant from the days when more expensive wines came in a wine bottle with a punt.
To punt or not to punt is totally up to you.
Here are some links that provide some additional thoughts on wine bottle punts:
https://www.youtube.com/watch?v=jPzF0UQG3wk
https://www.youtube.com/watch?v=Hi7PyUZVbJ8
https://en.wikipedia.org/wiki/Wine_bottle
Some wine bottles have indentations on the bottom (dimples). These dimples are called, "Punts." Do the punts in wine bottles have a purpose? Is the wine bottle better because it has a punt? Is the wine inside a wine bottle with a punt of better quality?  The answers...
Recently Michael Pinto visited our growers vineyards in Chile to inspect the grapes. Mike overlooking vineyard Mike in the vineyard Checking a small bunch...
Each year our grower in Chile prunes his vineyards to improve future growth. Here's a i-minute video showing that process.
Watch a very interesting 5-minute video featuring Sebastian Astaburaga, Director of Carrea Albano Vineyard, our world renowned grower in the Curicó Valley in Chile. You'll learn history, varietals, and more. Enjoy! Video on vineyard pruning from our grower in...
Our customers win awards… And say such nice things… Congratulations Charles Digeralmo! "Just reflecting on the wine competition that was held on April 1st by the Hammonton Rotary Club, I am feeling truly blessed, I took home 9 first-place wins, 4 second-place wins,...
Visit us in booth 1234 at the USBevX Tradeshow Wine & Beverage Event Washington, DC Feb 23 & 24 We'll be showing some of our best winery equipment. Don't miss out on our show specials. More...
Our customers (and the Press) say the nicest things In his newspaper column Michael Bray provides five great ideas about your wine curiosity. One of them mentions our services. Read more...
This year again, we will be offering Pinotage and Cabernet Sauvignon from South Africa. We are excited to offer additional higher-end regions where we will be sourcing our South African grapes. In addition to the Breede River Valley we will also offer...
Mother Nature has completed her job a little early this year. The California Grapes arrived the second week of September. Cabernet, Alicante, Malbec, Merlot, Ruby Cab, Zinfandel, Muscat, Thompson Seedless, and many more varieties. Additionally, in October we...