California Grape Juice
Available Each September and October–Grape Juice from California
We offer the following juice varieties from California in 6-gallon pails to our home winemakers.
Wineries and commercial customers, call us for special pricing on 57-gallon drums and 300-gallon totes.
White Juice
Chablis
Chablis wines labeled as such from California has come to mean a generic white wine blend usually with the main grape being Chardonnay.
Chablis is a growing region inside the Burgundy growing region of France and a true Chablis wine is a Chardonnay which MUST come from Chablis, France. There is no Chablis grape.
Chardonnay
Chardonnay wine flavors have been described as citrus and melon and are made with and without barrel aging. Chardonnay is a versatile grape producing a soft, fruity wine without oak aging and aromas of smoke, vanilla, and caramel with barrel aging. Chardonnay is also produced using malolactic fermentation which imparts a buttery flavor.
The Chardonnay grape is green-skinned and is believed to have originated in the Burgundy wine region of eastern France but is now grown all over the world wherever wine is produced.
In Chile, Chardonnay has surpassed Sauvignon Blanc as the most widely planted white wine grape.
Chardonnay is also blended with Semillon in Australia and New Zealand.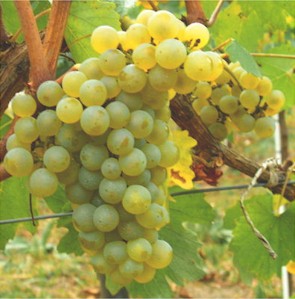 Chenin Blanc
Chenin Blanc is a versatile grape that is used to make dry white wines, dessert wines, sparkling wines, and brandy. Chenin Blanc has high acidity and is blended into "jug" wine blends. The most frequently encountered flavor elements found in Chenin Blanc are honey, honeysuckle, quince, and melon.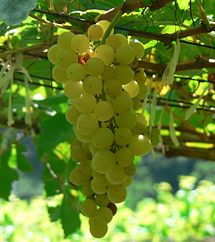 French Colombard
Wines made from French Colombard are typically slightly floral and fruity combined with good acidity. Due to the grape's natural acidic character it is used for blending and for white "jug wine" blends. This grape is mainly grown in California in North America and can be made into fruity wines in both dry and sweet versions. French Colombard accounts for about 40% of all the white wine produced in California in any given year.
Gewurztraminer
Gewurztraminer is an aromatic white wine grape that is high in natural sugar. Wines are usually made off-dry and can have the aroma of lychee nut. When dry Gewurztraminers may also have aromas of roses, passion fruit and floral notes. Its aromatic flavours make Gewurztraminer one of the few wine that goes well with Asian cuisine as well as smoked salmon.
Gewurztraminer grapes have a dark pink color and results in wines colored from light to dark golden yellow with a copper tone.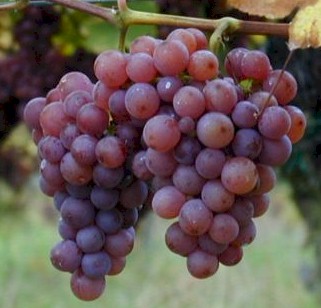 Johannisberg Riesling
Riesling is an aromatic grape variety displaying flowery, almost perfumed, aromas as well as high acidity. It is used to make dry, semi-sweet, sweet and sparkling white wines. Riesling wines are seldom put in oak barrels. Riesling is a versatile wine for pairing with food, because of its balance of sugar and acidity. It can be paired with white fish or pork, and is one of the few wines that can stand up to Thai and Chinese cuisine. A Riesling's typical aromas are of flowers, tropical fruits, and mineral stone. Riesling originated in the Rhine region of Germany.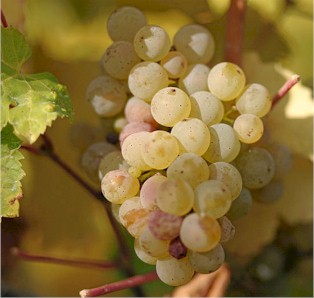 Muscat
Muscat Canelli produces outstanding sweet dessert wines and also forms the basis of Asti Spumante. Wines made from Muscat are generally sweet and very floral. Varietal aromas and flavors have been described as coriander, peach, and orange.
The Muscat family of grapes is widely grown for wine, raisins, and table grapes. Colors range from white to almost black, but almost always have a pronounced sweet floral aroma. Muscat is perhaps the oldest domesticated grape varieties due to the breadth and number of varieties.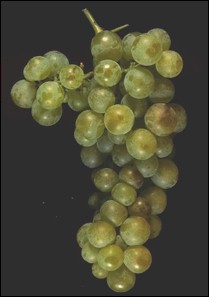 Sauvignon Blanc
Sauvignon Blanc has a distinctive, sharp aroma with naturally high acidity. Sauvignon Blanc from California tend to be either one of two styles. The first a fruity style with tropical fruit undertones or a barrel aged style with more rounder melon notes. Aromas have been described as grass, weeds, lemongrass, gooseberry, bell pepper, green olive, asparagus, capsicum, grapefruit, lime, and melon. Sauvignon Blanc is the wine that accompanies the greatest variety of foods. Sauvignon Blanc also is a component of the dessert wines Sauternes and Barsac.
The Sauvignon Blanc grape originated in the Bordeaux region of France and has a green skin.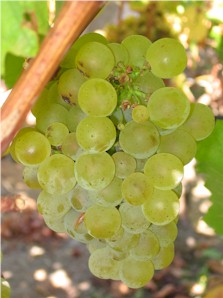 Thompson Seedless
Thompson Seedless or the Sultana grape variety is the most planted grape in California. Most of the crop is used for table or dried grapes, with some of it used in jug wines made by bulk producers. Thompson Seedless has an indistinct , neutral quality which makes it perfect for blending because it is able to fortify wines without compromising the character of varietal grapes.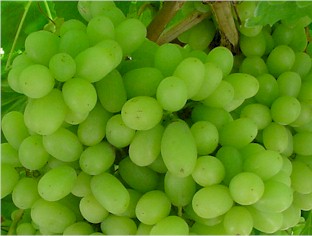 White Zinfandel
White Zinfandel is made from the Zinfandel wine grape. White Zinfandel is an off-dry to sweet, pink-colored, rose wine. The color is created by limiting the contact of the grape juice with the skins after it is crushed and destemmed.
Palomino
Palomino grapes are usually low in sugar and acid and is a good blender for other varieties that have high sugar and acid content. Palomino is best known for it's use in the manufacture of Sherry.
Pinot Grigio
Wines made from Pinot Grigio vary greatly depending on the winemaking style and the region where they originate. Pinot Grigio wines from California are usually light, crisp bodied wines. The Pinot Grigio style of Italy is usually a light-bodied, often lean wine that is light in color with sometimes spritzy flavors that can be crisp and acidic. Pinot Grigio when oaked can have aromas of vanilla, sweet wood, almond, and smoke. Fruit aromas are described as lemon, apple, and pear. Pinot Grigio pairs well with seafood, pork, and chicken.
The Pinot Grigio grape also known as Pinot Gris is thought to be a mutant clone of Pinot Noir. Pinot Grigio usually has grayish-blue fruit but can also have a brownish pink, black, or even white appearance. The grapes grow in pinecone shaped clusters and wines produced from these grapes vary in color from light shades of pink to copper to a deep golden yellow. The grape grows best in cool climates, and matures relatively early with high sugar levels. This can lead to either a sweeter wine, or if fermented to dryness, a wine high in alcohol.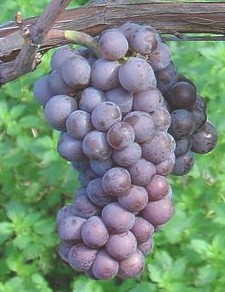 Viognier
Viognier is believed to have been brought to the Rhone region of France by the Romans and to have originated in Dalmatia. The best Viognier wines are known for their powerful fruit and floral aromas. Viognier typically produces medium bodied wines with relatively low acid content. This wine is best drunk young since aging allows the fruit and aromatic strength of Viognier to fade away. Viognier typically has a deep golden color and flavors and aromas have been described as orange blossom, acacia, violet, honey apricot, mango, and pineapple.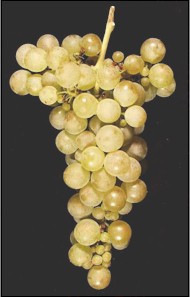 White Merlot
White Merlot is made in the same way as White Zinfandel, except it is made from the Merlot grape. White Merlot is a "blush" wine as is White Zinfandel. White Merlot derives its color by leaving the grape juice in contact with the red skins of the grape for a short period of time, usually hours or days. A deep red wine has the juices in contact with the skins for weeks.
Alicante
The Alicante Bouschet grape has red flesh and makes a deep colored red wine which is great for blending with lighter colored grapes. The grape has a thick skin and was planted extensively in California during prohibition for distribution to the East Coast. This grape is originally from France and is a cross between Grenache and Petit Bouschet.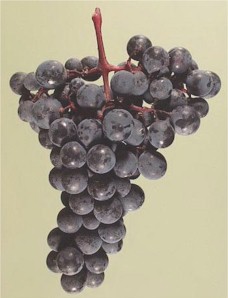 Barbera
Barbera wines when young can offer aromas of black berries, raspberries, with notes of black cherries. Barbera is a food friendly wine with deep color, lower tannins, and higher acids than most wines. Barbera wine goes well with a crusty Italian bread, a salad, and a hearty pasta.
Barbera is believed to have originated in the hills of Monferrato in central Piemonte, Italy and is known from the thirteenth century. Italian immigrants brought Barbera to the Napa Valley and Central Valley of California, where it is quite widely grown.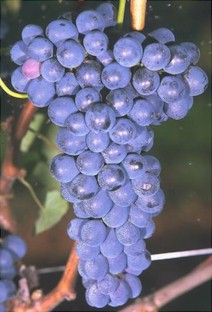 Burgundy
Burgundy is the name of one of the most important wine regions in France. There is no Burgundy grape.
Most wine produced in the Burgundy region of France is either red wine made from Pinot Noir or white wine made from Chardonnay.
California Burgundy is a "jug" wine made from a blend of red grapes.
Cabernet Sauvignon
Cabernet Sauvignon is one of the most widely planted grape varieties in the world. Wine made from Cabernet Sauvignon is generally stronger than Merlot and full flavored. The Cabernet Sauvignon grape has a thick skin that results in wines that can be high in tannin which provides structure and ageability. This grape is strongly associated with the red wines of Bordeaux and is blended with Merlot, Cabernet Franc, Petit Verdot, and Malbec. The aroma of Cabernet Sauvignon has been described as chocolate, ripe jammy berries, oak, pepper, earth, violets, blackcurrant, spice, and cedar.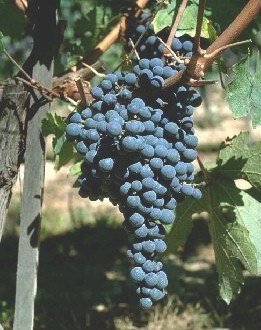 Cabernet Franc
Cabernet Franc is one of the major varieties of red wine grape in Bordeaux, France. It is often blended with Cabernet Sauvignon and Merlot to create a Meritage. Cabernet Franc is also vinified alone. Cabernet Franc is lighter than Cabernet Sauvignon and can contribute finesse and a peppery perfume to blends. Depending on the growing region and the style of wine, additional aromas can include tobacco, raspberry, and cassis, sometimes even violets. The Cabernet Franc wine's color is bright pale red.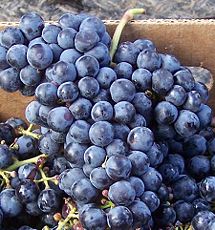 Carignane
Carignane is a grape that originated in Spain and was later transplanted to the New World. Carignane is predominantly used in blending with Grenache, Syrah, Cabernet Sauvignon, Cabernet Franc, Mourvedre, and Merlot. This grape is noted for high alcohol, high tannins, and a deep purple color.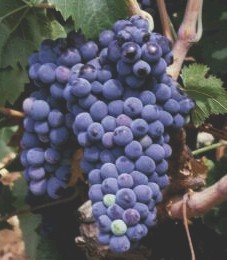 Chianti
The main component of Chianti is the Sangiovese grape which originated in Italy. Chianti is a dry dinner wine that goes with well-seasoned foods. It is one of the most popular wines to have with pasta, pizza, chicken, red meat and cheese.
Grenache
Grenache is one of the most widely planted grapes in the world including the Central Valley in California. The grape is generally blended with other varieties such as Syrah, Carignane, and Mourvedre since it tends to be low in acid, tannin, and color. The grape has a relatively high alcohol content. Châteauneuf-du-Pape is typically 80% Grenache and is also used to make rosé wines in France and Spain.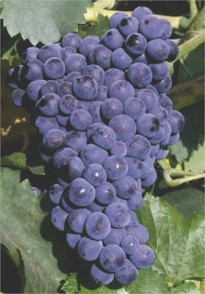 Merlot
Merlot is one of the most popular varietals in the U.S. and usually has medium body with hints of berry, plum, and currant. Merlot is softer, has a higher sugar content, lower malic acid, and lower tannin then Cabernet Sauvignon. Merlot is an ideal grape to blend with Cabernet Sauvignon for these reasons. Merlot grapes are identified by their loose bunches of large berries and black color.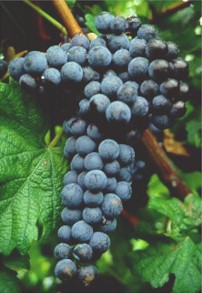 Petite Syrah
Petite Syrah is planted extensively in California and was originally from the Rhone Valley in France. The grapes grow in very tight bunches and can produce tannic wines with a spicy, plummy flavor. Petite Syrah is an important blending grape because of it's deep color and fairly intense tannins. Petite Syrah when blended with Zinfandel adds body and complexity to Zinfandel.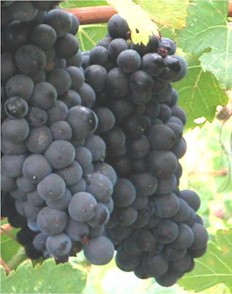 Pinot Noir
Wine made from the Pinot Noir grape tends to be light to medium body with aromas of black cherry, raspberry or currant. The grape's color when young, often compared to that of garnet, is often much lighter than that of other red wines.
Pinot Noir thrives in the Burgundy region of France and in the United States. The United States has increasingly become a major Pinot Noir producer. The best regarded areas are the Willamette Valley in Oregon and the Russian River Valley in California.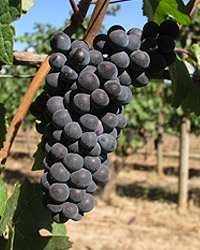 Ruby Cabernet
The Ruby Cabernet grape is a cross between Cabernet Sauvignon and Carignane and is valued for its drought resistance. Wines produced form this grape generally have good color with hints of cherry. Ruby Cabernet is also used for blending.
Sangiovese
Sangiovese originated in the Tuscany region of Italy where is was known as far back as the 16th century. Sangiovese is the main component in Chianti and used to make the modern "Super Tuscans". When young Sangiovese can have fresh fruity flavors and when aged in barrels can take on tarry, oaky flavors. Some wineries in Australia are using Sangiovese to make Rose and the dessert wine called "Dolce Nero".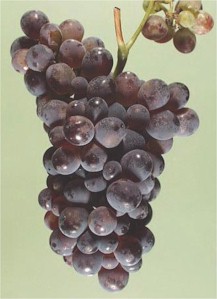 Syrah
Wines made from Syrah are often full bodied with aromas ranging from violets to berries, chocolate, espresso and black pepper. Syrah is widely used to make a dry red table wine and is often blended with Cabernet Sauvignon, Merlot, Grenache, Mourvedre, and Viognier. Syrah is also called Shiraz in Australia, South Africa, and Canada.
Syrah / Shiraz should not be confused with Petite Sirah which is another grape variety which is a hybrid of Syrah with Peloursin.
Valdepena
The Valdepena grape is thick skinned and deep red in color. Wines produced from these grapes tend to be medium to deep red. Aromas have been described as leather, tobacco, vanilla, and earthy.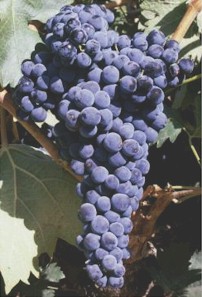 Zinfandel
Zinfandel as produced in California is known for its high alcohol content, intense fruitiness, and lush texture. Zinfandel grapes are used to produce a wide range of wine styles including: light bodied reds, full bodied reds, ports, late harvest dessert wines, and sweet White Zinfandels. In Europe, Zinfandel is known as Primitivo. The most common aroma and flavor descriptors used with Zinfandel are raspberry, blackberry, boysenberry, cranberry, and black cherry. Zinfandel pairs well with grilled meat.